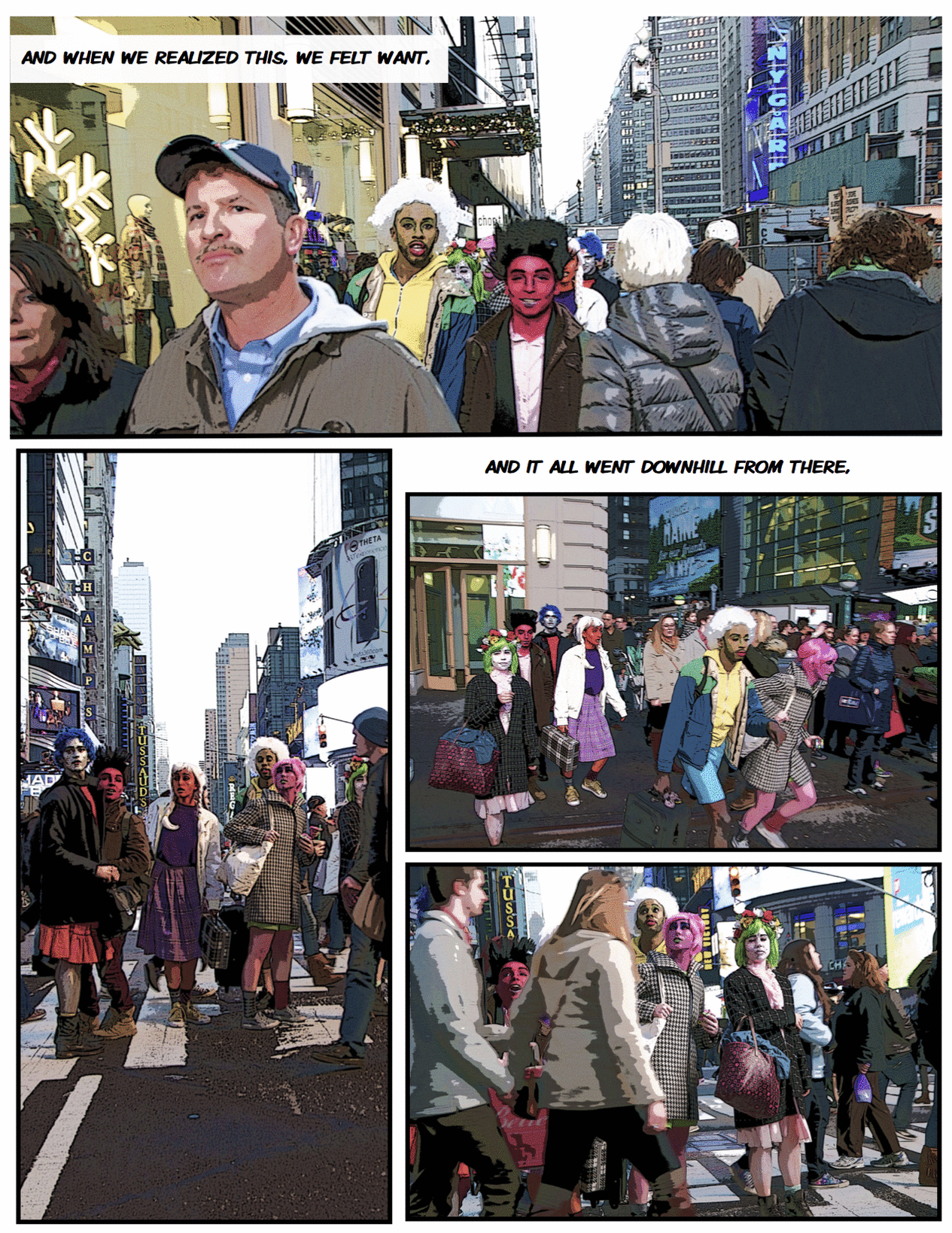 Andy Warhol's TROPICO- A Graphic Novel
PART 1
I want to take you back to TROPICO, again, and remind you how we got here. Take pictures of the journey back or sing you unidentified lullabies, sonic dream-scapes that make you want to serenade or commit seppku, simultaneously, come on, come on, come on, come.
May every lie I ever told reincarnate as a blind seeing eye dog and deliver you from fear, may every song I sing or poem I write drown out the sound of the subway, keeping your focus on me and our made for reality tv silent musical,
May you dance until you die, I'm gonna make you come. May all the coffee I ever drank make your hands and skull shutter and keep you poised for the beginning of the end, come and experience real life in real time, in a real body, really dying
I want to take you on a pleasure quest, to overwhelm your senses, guide you through the everlasting bliss of the unknown, I want to take you to a place you came from but got lost on the way back, or perhaps you stopped searching, you too are one to get tired, come, and make this all about you, turn your imagination on, come with your socks and sheets, come with your dinner plans, come and say thank you, out of habit,
were sad were not real,
we're sad we're not magic,
we're sad you don't care,
sad, triste, murugo.
May you share a glass with Anne,
but never live as one of her daughters,
you have your own mother,
I want to take your children to TROPICO,
we are all legacy, we live to spread disease,
Dre, Sam, Jim,
may you find them and have them lie to you,
and many other dreams, of unique honest lies,
infinite dreams, of unique honest lies,
infinite dreams of unique honest lies,
infinite dreams of unique
honest lies, in the millennial age of fame,
May you end up in TROPICO
and find your truth,if you come,
may they lie to you with the lights on dancing
til' the breath's lost
dancing til' the breath's lost
dancing til' the breath's lost
dancing till the breath is lost
PART 2
And may all those that have fled to TROPICO,
Marsha, Virginia, George, Paula,
and I have never met you,
and I have never met them,
no acquaintance,
it was important I got to know you,
but I will too go one day,
so, if you out there
ever need one of them in here,
may you come and go as you please,
pick flowers from the bottom of their gardens,
and build flower crowns for your playmates,
or whoever believes in you,
they will keep their beds watered, weeded and waiting
(but you must pick up where they left off)

May Allen come too and cry at your feet
and turn you all Into wolves
everyone can
howl,
everyone
can howl,
everyone can howl,
everyone can have an Allen
Give kisses to all your boyfriends and girlfriends you forgot,
if they were friends, they'd be friends in the end,
or they remain boys and girls,
it's always the beginning of the end.
TROPICO is public solitude and social anxiety,
real feelings in imaginary circumstances and escapism,
we're young but we live wisely in illusion.
PART 3
Way way back in TROPICO,
before America's melting pot of corn, apples and other sins; fears,
we moaned, and this became something meaningful,
we grunted and this became warning,
we screamed and this became song, songs made us move,
and movement took place of screaming,we drew pictures of our screaming
and realized them to realize ourselves,
and the thick layers of the brain,
vessels of heat and sensations, began to transform,
taxying realizations into mailable screams,
and this happens at every moment of the day,
and when we realized this, we felt want, and it all went downhill from there,
something we needed became something we wanted,
why can't we go back?
Because something we can give now wants to make a deal
in exchange for hope
for accidents of hope, accidents of hope, accidents of hope
Inextricably linked to holding back
what was never our choice to give,
clinching sensation the way a child holds a toy pretending to know better,
we haven't come so far,
from TROPICO,
this is me, the unrealized,
we're dying,
you me and the unrealized.
May Javonovich, and all the other missing Shaman who make me,
Meet you and make you too,
may they create a ground for you to walk on and intentionally coat it
with dish detergent, may you slip into oblivion
the way cartoon lightyears fall with style, and may you trade information
and skin with dirt, making you ready
to get back into earth.
CODA
TROPICO, what are we to say, we created you,
we're in agony over the ephemeral, stardust makes us both,
the galaxy has its thoughts and dreamed us up, we didn't ask to be here,
no one is the blame for the biggest chance ever taken together
in the wake of creating time,
we're here.
fin.